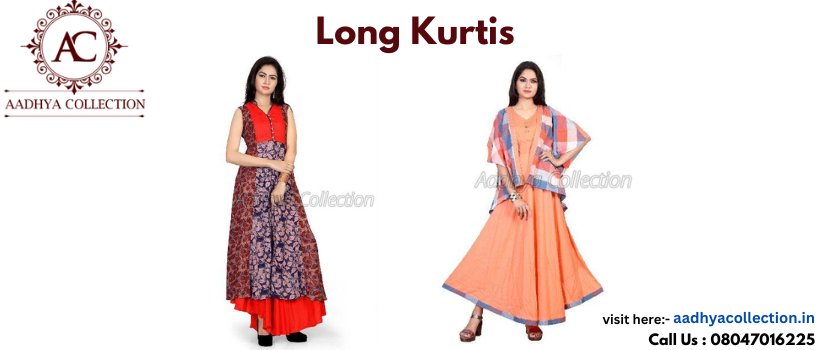 Women in several regions of India and other South Asian nations frequently don long kurtis, which is a popular traditional garment. They are long, flowing tunics that typically fall beyond the knees or even reach the ankles.
Long kurtis can be worn for formal and informal settings and come in a wide range of designs, prints, and materials. Ladies long kurtis manufacturer must create unique designs for the kurtis that will appeal to their target market. A long kurtis supplier Rajasthan plays a crucial part in the fashion sector.
Ancestry And Evolution Of Long Kurtis
Kurtis were traditionally worn in India by both men and women. The original Kurtis were plain, straightforward clothes made of cotton or silk. Typically, they were worn as a simple tunic over leggings or jeans.
Kurtis evolved over time, gaining complex embroidery, beadwork, and other embellishments that made them more rich and extravagant. In addition, they grew longer, approaching the ankle. This lengthier length gained popularity because it allowed for the incorporation of more intricate designs and patterns onto the garment.
Different Types Of Materials To Create Long Kurtis
A common outfit, long kurtis can be constructed from a variety of materials, each having special qualities of its own. The most popular materials for long kurtis include those listed below:
Cotton
Cotton is a well-liked fabric option for long kurtis since it is light, breathable, and cosy to wear. It can be used as a variety of fabrics because it is simple to dye and print on.
Silk
The rich appearance and feel of long kurtis made of silk is well recognised. Pure silk, raw silk, and silk blends are just a few of the varieties of silk that can be used to create them. Beadwork or embroidery are frequently used to decorate silk kurtis to further enhance their attractiveness.
Chiffon
Long kurtis for formal occasions are frequently made from the lightweight, sheer fabric chiffon. It lends a delicate feminine touch to the clothing and has a lovely drape.
The Acceptance And Adaptability Of Long Kurtis
Long kurtis have gained a lot of popularity recently due to their comfort and versatility. They are a popular choice for both formal and casual outfits, making them an essential item for every woman's closet. For a multitude of reasons, including their versatility, long kurtis are quite popular.
In addition, a variety of designs and styles are offered for long kurtis, making them suitable for women with various fashion tastes. They can be plain or richly embroidered, printed, and decorated with elaborate patterns and stitching. There is a long kurti for any event and fashion preference thanks to this variety of possibilities.
Various Long Kurti Styles
There are numerous types, patterns, and materials available for long kurtis. Listed below are a few of the various styles of long kurtis:
Kurti Anarkali
Long, flowing kurtis called anarkalis have a fitted bodice and a flared skirt. They often have a lot of embroidery and are modelled after Mughal clothing.
The A-Line Kurti
A-line kurtis have an A-shaped flare at the bottom and are fitted at the top. They are a style that can be paired with a variety of bottoms.
A Straight Kurta
Kurtis that fall straight from the shoulders to the hem are a classic style. Leggings or churidar pants are typically worn with them.
Kurti With A Slant
Kurtis that are asymmetrical feature hemlines that are longer on one side than the other. They are a contemporary look that may be worn both formally and informally.
Conclusion
Regarding style and ornamentation, long kurtis have also undergone change. Modern long kurtis have detailed motifs, prints, and decorations like beads, sequins, and stones, as opposed to classic kurtis. They were simple with little needlework. They come in a variety of fabrics, including georgette, chiffon, crepe and silk.