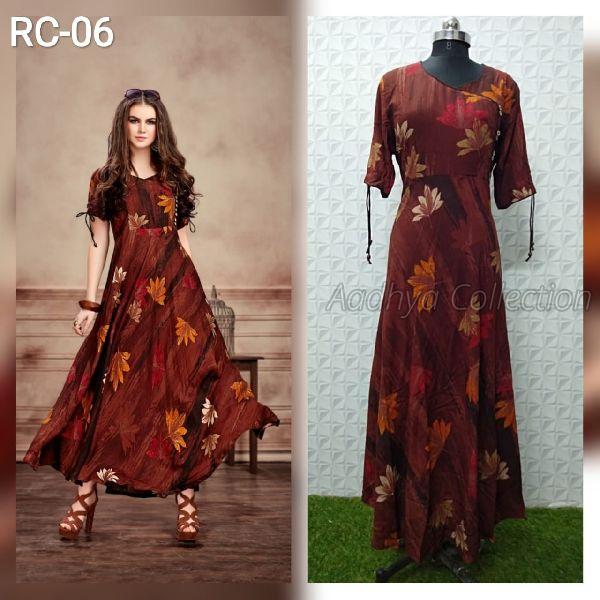 Long kurtis are one of the most comfortable and trendy outfits that are available in the market today. It can be worn in formal and casual wear and is a must-have Indian ethnic wear in every women's wardrobe. During summers women can flaunt their beautiful long kurtis. Also, you will feel comfortable and light wearing this kurtis. This is one of the best choices for students who go to college.
Kurtis can be worn on every fiction and occasion, these ethnic wear looks sparingly beautiful on women of all shades. There are plenty of flair long Kurti supplier that provide you with numerous styles of Kurtis. You can add them to your closet and restyle them the way you want. You will get limitless choices to choose from. Following are some of the styles that you can try out creating with your long kurtis.
Wear It With Jeans
Kurtis can be worn with your favourite pair of jeans. Many women love to wear Kurtis with jeans for a stylish and cool look. You can choose any colour of jeans to pair with your kurtis. Another style that is trendy nowadays is to fold the jeans from your ankle and you will get a snatched look. This will give you a perfect Indo-western look.
Style It With A Shrug
Shrugs are one of the best add-ons with your Kurti. Adding shrugs to your long Kurti will give you a modern look. You can try to create this look by using a single colour Kurti with a shrug that has some detailed prints. You can choose any kind of design for the shrug and wear it with a Kurti to get that Indo-fusion look. When you look online, you will get plenty of designs for your shrugs. There are various colours, patterns and designs available in the market. Be it short or long sleeves, this outfit will never be out of trend. You can choose to wear them on every occasion and look stylish and gorgeous every time.
Get Cigarette Pants
If you want a more sophisticated and modern look, choose to get cigarette pants with your kurtis. These stylish and new pants are excellent pair for your kurtis. These can be worn by women of all ages. Even the ladies who are plus-size will rock this look without any trouble. You can add a dupatta if you want or can avoid it. To make the look complete, choose to wear a beautiful necklace with a pendant or earrings.
Kurtis With Shorts Style
There can be people of different opinion and choices but is cool to wear you kurtis with shorts. This is perfect for people who love to experiment with their looks and love that funky style. Young women who usually wear Indo-fusion clothes can try out this look without any problem. We get different Kurtis available in different patterns and colours but keep in mind that the shorts you choose are in contrast to the colour of your Kurti. To achieve a more casual look, you can choose to wear a belt over it and pair it with a simple sandal.
There are plenty of other ways to wear flair long kurtis. Choose the best kurtis from the best suppliers made with good quality material and wear it the way you want.
This entry was posted on August, 07, 2021 at 16 : 30 pm and is filed under Kurtis. You can follow any responses to this entry through the RSS 2.0 feed. You can leave a response from your own site.