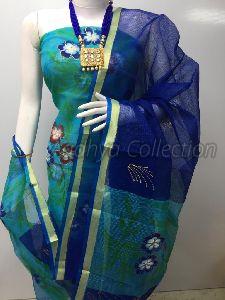 The Kota Doria suit is a very beautiful suite with pleasing colours. Women who like to wear Indian clothing would love the idea of a perfect top, bottom and an attractive dupatta. Looking elegant is every woman's desire. But what matters the most is how to find a very good looking salwar kameez set? Kota Doria is equally as strong as Cotton and comes with same mesmerising lustre and softness as silk. The addition of silk also makes this fabric transparent which in turn makes an extremely light-weight and breathable fabric, hence the most favourable fabric for summers.
Well, many Kota Doria suits manufacturers deal in online and offline selling. Get good quality salwar kameez unstitched materials online. You can place your order and get the best stuff as per your need.
The material used is quite soft and cool
For making designer Kota Doria suit, the manufacturers use bottom and the top are made out of pure cotton fabric. The speciality is hand block printed dresses. Thus, they have a variety of items available as in the dress materials in amazing prints like dabu print, shibori print, Bagru print and so on. In India, hand block printing is quite popular in Rajasthan. These dresses are authentically printed and the expert artisans can easily figure out as to what the customer demand is kike Based on that they print the unstitched materials.
Using these ethnic dresses for a smart look
Many amazing dresses would have beautiful patterns like the straight style dresses and even those which look different. A woman's wardrobe should have a variety of dresses so that she can wear them when needed. Like, when you go to the office then wearing something really comfortable and great can give a different look altogether.
Benefits of cotton material in the dress
When cotton is used in crafting the dress material then it would make the dress quite comfortable. For those looking for home wear or office wear dresses, these suits can be a good candidate. Kota Doria suit manufacturers make these suits available directly from Rajasthan and supply all over India. You will find various colours in the range of Kota Doria suit.
Just select the one that you find is perfect for you.
You can even get the order in bulk online and that would fetch extra discount. Colours like grey, red, blue, pink, yellow etc. make the dresses look vibrant. If you are a fan of hand block printed dresses then you will love the idea of getting the perfect option in life.
Where to get them?
• It will be convenient if you buy them from Kota Doria Suits Manufacturers online.
• They provide product catalogues to the clients at their website. For the ease of the clients, they process small and massive demands of the clients carefully. With a network of dealers and distributors, they have been successfully serving the urgent and massive product demands of the clients at their doorstep.
• Placing orders with them is easy as they provide the facility to pay online and offline, clients can track their orders, and ask for tailored packaging as per the convenience.
So, get associated with them, share your requirements, they assure to work accordingly.