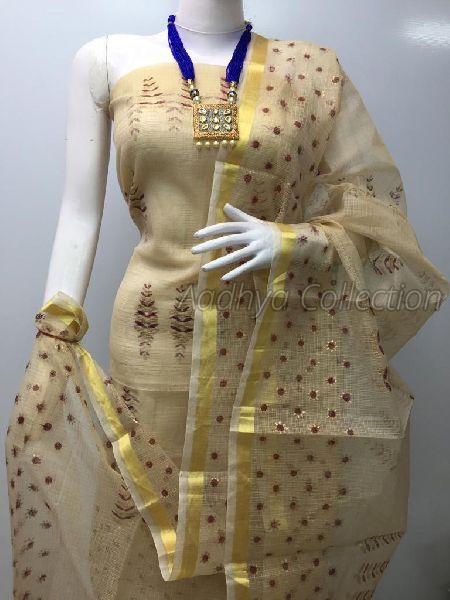 Aari work sarees are slowly gaining market share with their elegant handmade design and fine finish that can be worn on all types of occasions. The aari designs in saree is in great demand for its simple, but stunning handmade work and designs with designers using their aari holed- needles to produce one of kind design for their loyal customers. The aari design works well with several different fabrics and gives a royal finish when stitched under the supervision of an expert. Listed below are a few features that have contributed to the rise in demand for aari work saree in the year 2021.
Works Well With Different Kinds Of Fabrics:-
The best feature of the aari work saree design is that it can be used in a variety of fabrics namely silk, cotton, georgette, etc. The golden colour thread known as zari adds charm and compliments all different kinds of fabric. Depending upon your preferred fabric, you can add aari work to compliment the saree with the occasion that you wish to grace. The simple and stunning aari work is surely going to ensure that all eyes are on you.
Suits All Occasion:-
Aari work sarees can be worn for all types of occasions from weddings, parties, official board meetings to get together, etc, you name it. From elegant design to glitzy work, aari work comes in varied designs and hence can work well on different occasions. You can buy an aari work saree with trending and latest design easilyfrom any Aari Work Sarees Supplier online at a competitive price.
Variety Of Aari Embroidery Design:-
Aari embroidery design saree is available in an array of design options from Kashmiri aari work saree, supernet aari work saree, aari work silk saree, etc. The design differs from the type of saree you choose. The aari design includes a peacock, florals, god, goddess, etc. The aari embroidery designs are usually done in contrasting colours of the saree to ensure that these designs are highlighted effectively.
The above-discussed features are only among the few. Aari work sarees are also gaining popularity with brides as many young brides are opting for aari work embroidery for their wedding saree. The handmade design has a charm that cannot be compared to a machine-made saree. The fine finish lends aari work saree a must-have clothing item for any woman.
You can style aari work saree like a lehenga to ensure that the design is highlighted in the best possible way. The aari work is the focal point of such sarees, and you want to showcase the trending design to ensure that all eyes are on you. Aari work saree can also be customized, and some Aari Work Sarees Suppliers online provide customized aari work design options for customers at economical rates.
If you opt to buy an aari work saree online, make sure that you browse through different websites to understand the latest and trending design pieces. It will guarantee that you are getting value for your investment and also ensure that you can style your aari work saree in the best way.